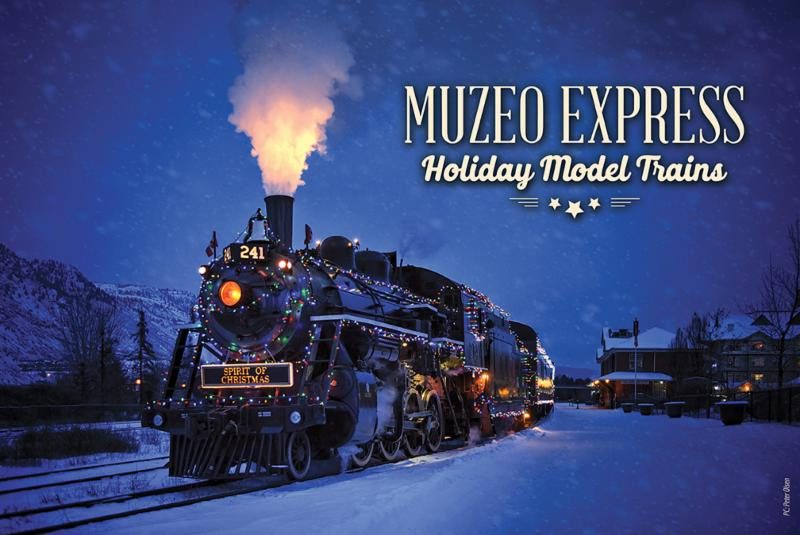 Photo by Peter Olsen
October 26, 2017
FOR IMMEDIATE RELEASE
Contact: Carol Latham
Community Outreach Coordinator
(714) 956-8936
clatham@muzeo.org
NOVEMBER AT MUZEO
The Mother Earth: Art by Robert Refugio opens Saturday, November 4. This mixed media collection takes a dreamy yet critical look at our planet's ability to rebuild itself. Local artist and commercial graphic designer, Robert Refugio explains his unconventional approach, "all my work is mixed media-oil, acrylic, pen, charcoal-I'm not the traditional canvas painter. I like to use what ever I can find and paint on." Meet Robert Refugio at the opening reception on Sunday, November 5 from 1 – 3pm. The exhibit is free and is open through January 7, 2018.
All aboard!
Muzeo Express: Holiday Model Trains
returns November 18, bringing the spirit of the season to Anaheim through January 7, 2018. This festive family-friendly exhibit features model trains, miniature scenes and hands-on activities; complete with historical relics showcasing the history of trains in Southern California.
On Saturday, November 25 from 1pm-3pm, Muzeo will offer train rides and Muzeo Express train whistles free with paid admission, while supplies last.
Tickets can be purchased at
www.muzeo.org/tickets
.
The Polar Express Pajama Parties
are back with two dates;
November 25 from 4:30pm – 7pm
and
December 2 from 9am-11:30am
. Put your PJs on and bring a blanket, you don't miss this magical Christmas journey! Ticket includes admission to
Muzeo Express: Holiday Model Trains
and viewing of
The Polar Express
, meet and greet with our conductor, a Christmas craft to take home, hot chocolate & treats. Tickets can be purchased at
www.muzeo.org/tickets
.
On Wednesday, November 8 the
Lunch and Learn
series continues with a free, one-hour presentation at 11:30am on
Veteran's Services with Robert 'Bobby' McDonald
. McDonald is the Orange County Veteran Advisory Council Chair and the President and Executive Director of the Black Chamber of Commerce of Orange County. Bring your lunch, if you wish, and learn about the Buffalo Soldiers, Heroes Hall at the OC Fair Grounds and, more. Arrival by 11:15am is recommended. Admission is free; RSVP is requested at
www.muzeo.org/events
.
Muzeo's
Open Book is Thursday, November 16 from 6pm to 8pm
, and will feature the novel for young adults,
"Theep and Thorpe: Adventures in Space," by author Lillian Nader
. The main character is fourteen-year-old earthling, Jonathan Curtis, who breaks the law and is sent to Juvenile Space Camp on Planet Staruus. The planet is a place troubled kids are sent to from an overpopulated Earth and was thought to be uninhabited,
but is it?
Join us to find out more; participate in a discussion, and have opportunity to purchase books signed by the author. Admission is free; RSVP is requested at
www.muzeo.org/events
.
Muzeo Museum and Cultural Center is the perfect venue to make your event truly unforgettable. Book your private party inside one of our galleries and immerse your guests in a unique museum setting. Quotes and tours are available; please visit
www.muzeo.org/holiday-events/
for more information.
Muzeo Museum and Cultural Center is located at 241 S. Anaheim Boulevard, at Broadway. Open Wednesday through Sunday from 10am to 4pm. For information on group rates, venue rentals, or programs please call 714-956-8936 or visit
www.muzeo.org
.
##